List of Services
Websites include original graphics, original layout (we don't use templates), rollover navigation, and site updates.
How about a fresh new look for your existing web site? If your site is older than two years, you'll need it.
We can provide your website with tricks of the trade to help increase your search engine rankings.
We create original artwork, logos, t-shirts, and other sorts of company branding!

Video Editing

We can edit your commercial, film, web spot, or demo reel using Adobe Premiere Pro and After Effects.

Audio Mixing

We can mix and edit your song, podcast, or commercial reel using Adobe Audition CC 64-bit.

Flash or Gif Animation

We can augment your site with Flash or Gif animation to add that extra marketing punch to your customers.

Website Activation

We can register your domain name (www.yourname.com), provide site maintenance, and host your site.

Website Cleaning

If your site is satisfactory but has some minor glitches that need fixing, we can perform a website cleanup.

Website Maintenance

We can provide weekly or monthly maintenance to your current website (whether we built it, host it, or not).

Photo Retouching

Need some photos enhanced or touched up? It's cheaper than chemical process and more detailed.
Including your logo and contact information. Designed to promote you like no generic card can.

Adobe Tutorials

We've been successfully tutoring clients in Adobe Tools since 2011. Contact us if you're interested.

Video Production

Our services include pre-production, direction, cinematography, and post production.

Tech Consultation

How to clean up your computer, use the Internet, Email, self site design, creating graphics, FTP, etc.

Still Photography

All photos are digitally based. Digital files save you money and never show a generation loss of quality.

Professional Writing

Are you a producer in need of a talented and creative screenwriter? Do you need a ghost writer for your writing idea? How about original copy for your marketing program? No Problem.

Email Stationery

We can create a unique email template for you that includes graphics, logos, animations and unerasable contact info.

Wallpapers

We can create unique desktop wallpapers for company branding or personal use.

Sound Production

Do you need music to accompany your fancy website? How about a jingle for your commercial? Maybe a fast-paced techno song for your indie film?

Ad Banners

We can create an appealing online ad banner to click through to your business site. Styles unlimited.

Mini-CD Portfolios

The new business cards of the in crowd. Mini-CD portfolios are nearly the size of business cards and can showcase your entire portfolio. Plus, they're all around sleek and cool-looking.

T-shirts, Hats & More

Print media and websites are not the only places to put your logo. Increase employee unity, improve branding, or create fun raffle prizes. Match your corporate colors, immortalize your logo, while sending out your advertising wherever these items go.

Online Marketing

We can create an entire online marketing campaign. Contact us for rate packages.
Need an ad for a print publication? Black and white or color. Any medium.
Need a company logo? Finished logos are royalty free and built to specification.
How are you marketing? Often a well designed brochure will do the trick. We also design style resumes.
You've got the product and now you need to package it to attract your target demographic.
To go along with those beautiful business cards. The perfect touch for cover letters, business proposals, etc.

Publicity

Jade Tiger Productions formed a strategic alliance with a professional publicist. Contact us for a referral.
Want cheaper hosting services? Jade Tiger Productions can get you a discount offer with a top-tier web server.
Notes: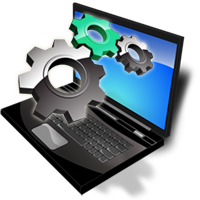 All quotes variable on a project by project basis.
Special conditions may apply.
Rush rates add 25%.
One Hour Minimum Charge.
Additional time billed in 30 min. increments.
Most orders will require a 25-50% retainer.
Invoices beyond Net 30 are assessed a late fee.
Payment by Credit or Debit Card is now available!
Contact us for a no-strings attached estimate.