Client Referrals
Believe it or not, we don't advertise. We get all the clients we need by word of mouth from our slate of highly satisfied customers. In turn, we reward those referrals with a commission; a little something to show our gratitude for telling others what a great job we did.
Referral Commission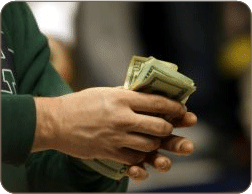 It's simple. You refer someone to us. If they hire us for graphic or web design, you get a finder's fee. We offer two forms of this commission.
Cash Option
You can simply take the cash. We offer a generous 5% of the total price the referral pays. As soon as we receive final payment, we immediately issue you a check for the commission earned. You can do this as many times per year as you wish.
Credit Option
If you are in need of graphic or web design yourself, you can also choose the credit option. We offer a hefty 10% of the total price the referral pays. This credit can be used for any of our services. Some clients have earned enough credit to do a complete redesign of their own website for free!
We believe that you should be rewarded for your effort in recommending us. We pledge all our marketing on our reputation, which says a lot about how we do business. We strive for complete customer satisfaction and believe in scratching the backs of those who scratch ours.