About the Company
creators of award-winning designs and artistic innovations for print and the world wide web. Jade Tiger Productions is here to meet your creative marketing needs, covering nearly all aspects of multimedia. One stop shopping for any audio/visual project on your plate. The design staff is dedicated to bringing you the highest quality products and services.
We specialize in web design, graphic design, and print media. Our work is timely, original, and built to specification. And we always ensure our creative solutions meet the demands and expectations of your target audience. Jade Tiger Productions has been designing graphics and websites for over a decade and has a wide range of clientele from across the country to show for it. Our philosophy is to create form and flow within functionality. Efficiency and beauty merge with creativity and spirituality to create works of art and technology—the underlying balance between man and nature. This essence is The Zen Art of Multimedia™ and the Jade Tiger is a symbol of this unique blend of company attributes. And because we're a cottage industry, we're able to pass the savings on to you.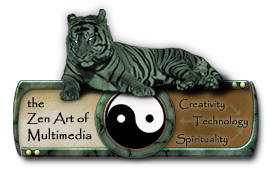 Story Behind the Name
Tigers are both respected and feared in legends all over the world. In some myths, they are considered incarnations of the gods and in others they are the spirits of mortal heroes. In the villages of the Far East, tigers represented omens. Tiger paw-prints seen on the outskirts of a village predicted a criminal would be brought to justice. Other legends claimed that seeing a tiger in the wild meant acquiring a title of power someday. In Chinese folklore, Jade is considered a mystical stone. Jade is said to be a gateway to the heavens, or it contains wise and ancient souls. The Tao Te Ching says, "Jade is valued as being precious, but its strength is in being stone." So here we have "tigers" and "jade." Both elements represent strength, power, elegance, and perfection. Together, as Jade Tiger, the metaphor is amplified. That is the heart and soul of Jade Tiger Productions. Our mission: to provide quality work that is elegant, bold, precise and powerful. To visit our online products store, click here.
President & Founder
Paul Herman formed Jade Tiger Productions in 1999. It began as an experimentation in web design, but quickly blossomed into a full-fledged multimedia company. Originally conceived as a budding film production company, Jade Tiger Productions has branched into several aspects of new media, offering a wide array of quality products and services. Paul Herman has two college degrees and has been working with computers and creative arts since adolescence. He's a talented artist and an accomplished writer with published poems and short stories, as well as several feature film scripts and a cartoon series, book and documentary feature on the market.
Additional Staff
Paul occasionally brings in specialty assistance from his vast networking reach of affiliates who specialize in such aspects of the business as eCommerce, MySQL, CMS, PHP programming, freehand illustrations, 3D rendering, voice-overs, marketing, publicity, promotions, and more. Jade Tiger Productions has a tight reciprocal relationship with these third party associates which strengthens its overall presence and proficiency. With these skilled specialists on board, we can provide high-quality solutions that encompass a wide range of mediums.