Print Materials
Jade Tiger Productions can assist you with your print media needs. We don't do any on-site printing, but can handle all your pre-press designs. And we have strategic alliances with several local printers to get you the best price in the area. Additionally, we can burn the design to a CD so that you can take it to any printer you wish (or simply zip it and email it). Below are some of the print design categories we handle: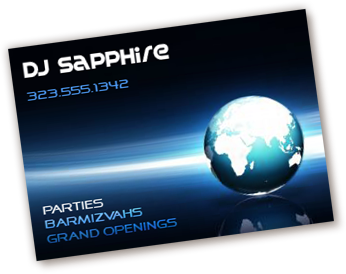 Business Cards
We can design a professional, visually-appealing business card for you. We can help translate the aesthetics of your website to your business cards. You should feel a sense of pride in your business cards. This can be achieved by investing in a professional design that your customers won't merely throw away. Most business cards can be designed in a few hours, keeping the cost low for you. We can also handle all the printing for you through our third party services. The cards are sent to us for quality control and then mailed directly to you. The whole process takes less than a week.
Brochures
Many companies and clients still prefer the hands-on feel of brochures to browsing through a website. We can accommodate all your brochure needs. We can design them from start to finish. Single sided, multisided, folded, pamphlets, and bound booklets, just name it. Click Here for an example of a brochure we designed that we later posted online for our client.
Posters or CD Cover Art
If you have a creative project in need of a poster or product cover design, we can assist. You give us all the specifications you need and we will manifest your vision. No project is too large or too small.
Logos
If you don't already have a logo for your company, we can help you create a branding image or icon. If you have an old logo in need of modernizing, we can also assist. Once the job is complete, you are the owner of the logo and we will provide you any size or file format you need for future implementation.
Miscellaneous
There are many more areas of print design we cover, from wedding invitations to event postcards. Just let us know what you need and we can accommodate your specifications and budget. Visit our Client Samples page to see a few samples of past client work. Be sure to contact us for an estimate.